When You Should Take Your Child to See a Pediatric Dentist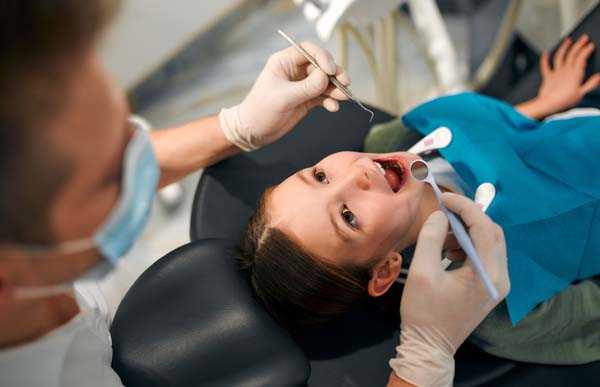 Pediatric dentists focus primarily on treating toddlers and children. Of course, younger patients have specific needs that adult patients do not have, which is why taking your child to see a pediatric dentist can be incredibly beneficial. They may also provide a more welcoming environment for children.
Reviewing when parents should take their child to a pediatric dentist
The following is a detailed review of when parents should take their child to see a pediatric dentist for the first time, the age range that they can treat, and how often your child needs to visit the pediatric dentist annually. These insights should hopefully allow you to make more informed decisions about your child's oral care needs.
When should my child visit a pediatric dentist for the first time?
Most pediatric dentists recommend having children visit the pediatric dentist for the first time within the first six months after the first tooth erupts. The first tooth generally erupts around six months of age, so it is best to have your child see a pediatric dentist by their first birthday.
What age range does a pediatric dentist treat?
Pediatric dentists typically treat children as young as one year and teenagers up to the age of 18. However, the age range that pediatric dentists treat may vary for each dentist, depending on the specific services they provide. In general, they treat patients whose jaws and teeth are still developing.
How frequently should my child visit a pediatric dentist?
Similar to adults, parents are encouraged to take their child to the dentist once every four to six months for a check-up visit. More frequent visits may be necessary for children going through treatments such as orthodontic care or who are more vulnerable to oral health concerns such as cavities and gum disease.
Why are visits to the pediatric dentist important?
The goal of pediatric dentistry is to reduce the risk of oral health concerns through preventive care. Of course, pediatric dentists can also provide restorative dentistry services as well. Dental visits are important for children, as they can help ensure that the permanent teeth develop properly and children are able to foster healthy habits for caring for their oral health and smile long-term.
What can I expect for my child during each pediatric dentist visit?
A routine check-up with a pediatric dentist typically involves an oral examination and a routine cleaning. Dental X-rays may be ordered as well for children who are seeing a dentist for the first time or have not had new X-rays in more than a year.
Schedule a pediatric dentist visit with our friendly dental team
If your child has not yet visited the pediatric dentist or it has been six months since their last visit, then we encourage you to contact our team by phone or message today to schedule a time to come in for a consultation. Here at our practice, we offer diagnostic services, preventive dentistry, and restorative dentistry for children of all ages.
Are you considering pediatric dentistry in the Gainesville area? Get more information at https://www.easydentalva.com.
Check out what others are saying about our services on Yelp: Read our Yelp reviews.